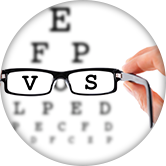 Exams, lenses
frames
& more!
Our Vision Centers have agreed to work within the framework of your optical benefits so as to provide you with a full examination and prescription lenses with NO OUT-OF-POCKET expenses to you or your family if you stay within the Plan coverage. We strongly suggest you take advantage of this fine benefit. Your eyesight is a precious gift. Protect it!
We Service:
Administrators: We offer the best plans to fit your organization.
Members: We are here to offer you the best service and the most choices.
Providers: Partner with the organizations that are right for you.